Description
Physiotherapy Body Premium Electric Heating Pad, NGL-MTW-1216/1224/1630/2440 
---
Our unique heating pad relaxes muscles and relieves joint pain and soreness. By increasing blood flow to the injury area, heat therapy can help accelerate healing. Finally, heat can effectively warm and loosen stiff muscles before exercise.
The device can help you handle slight as well as severe pain with 10 adjustable heat settings – the higher temperature you choose, the greater pain it can handle. This is also fitted with a special safety appliance which can automatically regulates the temperature effectively. Maximum temperature of the heating pad allowed by the standard requirements is to ensure user safety. By providing full body relaxation, fast heating and soft structure that can embrace different body areas like neck, back, abdomen,or legs snugly.  
---
Unique features

– 
Ultra soft, fine texture, skin friendly.

10 temperature levels for adjustment (30°C/86°F to 70°C/158°F).

4 timer levels to adjust (45/60/120mints.) – Auto-off function.

7-Foot Extra-Long Cord making it easier and more flexible on application.
The pad is machine Washable – Remove the controller and power unit, the heating pad can be machine washed. It must be dried before reassembling of the unit. Do not recommend to use cleaners of chemicals.
Safe in storage – Turn off the heat pad, dial out the heat pad, store the pad in a dry, safe, clean and cool place after clean up.
---
Precautions

–
Risk of electrical shock: This is an electrical product, red all the directions before use. Failure to do so may result in electrical shock or fire causing serious bodily injury.

Indoor use only.

Do not use if any visible damage is apparent (cracks, tears or exposed wires and heat element).

Must instantly turn off the heating pad and unplug when overheat or malfunctioned.

Patients for serious heart disease, and/or pregnant women should check with their doctor before use.

Do not use for unconscious and sensitive to heat people.

Do not modify switch button, wires and heat element or any components of the product.

Do not use cord as handle.

Do not puncture or use any sharp object to secure the Heating pad.

Do not use another electronic heating device in conjunction with the heating pad.

Do not tuck the heating pad when use.

Only cover the heating pad on your body use, do not sit and lie on the heating pad.

Do not heap and cover anything on the heating pad when use.

Do not use for children.

Unplug when not in use.

Do not use it when it is wet.

Do not dry clean this heating pad. Dry cleaning solvents may damage the wires.

Do not use bleach or cleaning fluids.

Do not use a wringer.

Do not iron your heating pad.

Do not use mothballs or sprays of any kind.

Do not reconnect the heated product or use it until it is completely dry.

Do not use analgesic cream in combination with your heating pad.
---
Controller Adjustment

– 
 – Level adjustments for temperature settings: 
Level 1 – 86°F; Level 2 -95°F; Level 3-104°F; Level 4-113°F; Level 5-122°F

Level 6 -131 °F; Level 7- 138°F; Level 8 – 146°F; Level 9 – 150°F; Level 10 – 158°F
 – Adjust the Timing button for timer level (45/60/120mints).
---
Product Size

 –
No. 

Part No. 

Dimension 

Power 

1

NGL-MTW-1216

30 cm X 40 cm 

12 "X 16" 

50 Watts 

2

NGL-MTW-1224

30 cm X 60 cm 

12″ X 24″ 

75 Watts 

3

NGL-MTW-1630

40cm X 76 cm 

16″ X 30″ 

120 Watts 

4

NGL-MTW-2440

50 cm X 100 cm

19.7″ X 40″

120 Watts 
---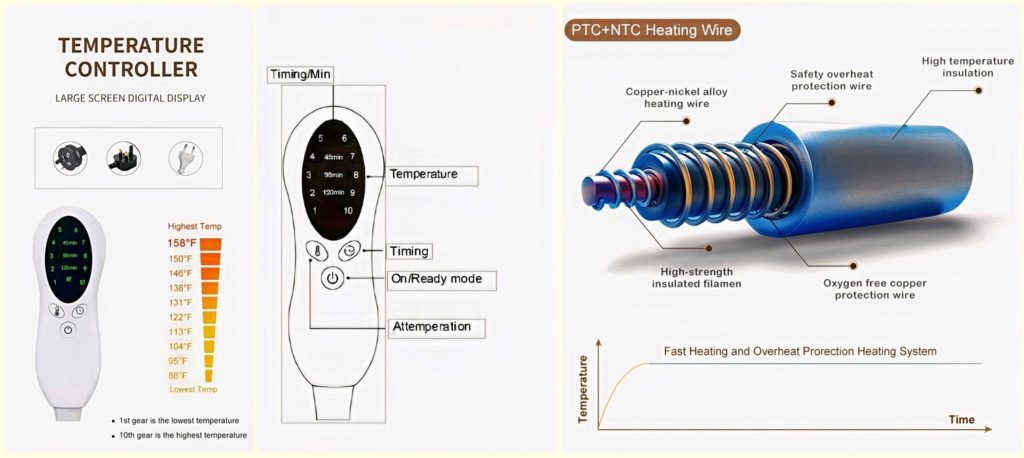 ---
Welcome to fill up the form for inquiry!