Post–Op Shoes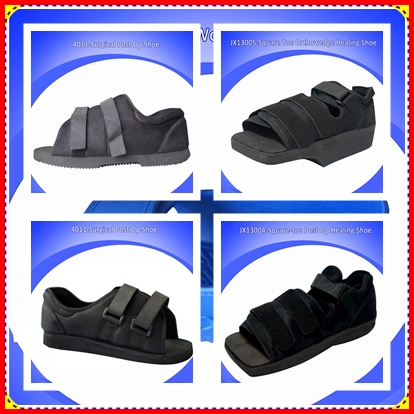 Our Post–Op Shoe is an open-toe shoe with a soft upper and semi-flexible sole, designed to protect the foot after injury or surgery. This fracture shoe is used for broken toes, metatarsal stress fractures, and other foot injuries.
---
Post-op shoes come in handy after having foot surgery to facilitate safety and support of the foot of the patient. They are worn on the feet as prescribed by the doctor.
---
Another role of orthopedic shoes (corrective shoes) is to improve the patient's state of stress on the foot when standing, walking, to avoid pain. They also can prevent deformity, correct functional deformation of the foot. Moreover they provide support for patients with permanent deformity, to achieve balance. They are worn for a period of about six weeks. These can be removed once the doctor verifies that the patient has fully recovered. 
---
Why Use Post-Op Shoes – 
They are mainly used by your clients who are recovering from injuries sustained from broken toes and ankles.
They perfect the post foot surgery recovery process. Since they are available for most of the foot surgical procedures performed such as flat foot reconstruction, great toe joint implant among others, they increase the chances of quick recovery by patients.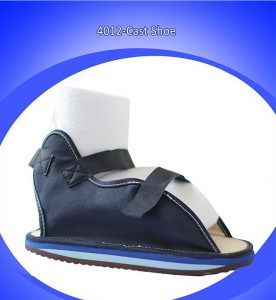 ---
The foot surgery process can cause more and new foot complications necessitating another surgery if post foot surgery care is not done. The foot complications include, the wounds may take a lot of time before healing, they may be re-infected, the joints and muscles around the foot may stiffen or the ankle bones may take long to heal. To avert these foot complications, post-op shoes should be worn. 
---
After foot surgery, the recovering patients are not under anesthesia and there is no doubt that they encounter pain. Painkillers alone cannot do away with the pain. One of them is wearing post-op shoes. The shoes fasten the process of recovery after undergoing foot surgery or wound care treatment. They lessen the pain experienced by patients as they heal. 
---
Having successfully undergone foot surgery, a patient should focus on recovering in the most comfortable method. Post-op shoes are big in size, fitted with a lift and have heavy soles which means that they promise a great deal of comfort of the feet. This allows them not to interfere with the dressings and casts on the foot. Further, they are in a position to accord the foot more protection as the patient tries to exercise movement as they recover.
---
Showing all 3 results