Massage Chairs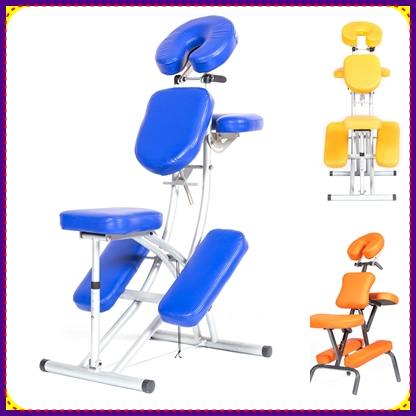 For all those professional massage therapists who are really serious about their jobs and wish to travel and visit clients for demonstrating and for giving out massage therapies, a portable massage chair is the perfect solution.
---
Our chairs are designed for portability, your clients can easily carry them along at any time and at any place. These chairs differ from traditional and automatic massage chairs in terms of their portability, comfort and convenience of use, travel and storage.  
---
Massage Chairs vs Portable Massage Chairs: A complete massage is related to focusing on all parts of your body including neck, shoulder, hands, arms, legs and elsewhere. If therapist needs to give massage in varied environments outside their own office or even within, a portable massage chair is the best solution for them.
---
What to look for on a portable massage chair?
A number of different options our massage chairs offer varied features and settings to make massage as comfortable as possible for therapist as well as client.  
Massage Anywhere: can be performed at any location because of ease of transfer. Apart from professional or home settings, these chairs can be easily used at events, conferences, trade shows, malls and elsewhere.

Quality and Capacity

: Our massage chair has a particularly strong and robust construction so that you can use it to support massage therapy of clients of different weight and sizes.

Weight of the Chair

: Our chair is light in weight but sturdy which is something really portable that could be carried around

Assembly

: The chairs have systematic folding design that can enable you to set them up at any place, deployment is simple and quick.

Simple to Clean

: Cleaning and hygiene
on chairs are simple, all materials used for our chairs are very easy to clean using lotions, creams and oils or even water.

Adjustable Features

: Our massage chairs include features that are adjustable such as height, seat, arm rest, leg support, etc. With these adjustable features, you should be able to give your client a complete body massage that would relax his upper body, lower body and even his tired feet with a relaxing reflexology therapy.

Price

: Budget is undoubtedly important. Pricing for our chairs are competitive compare with others in marketplace.
---
Showing all 2 results