Compression Gloves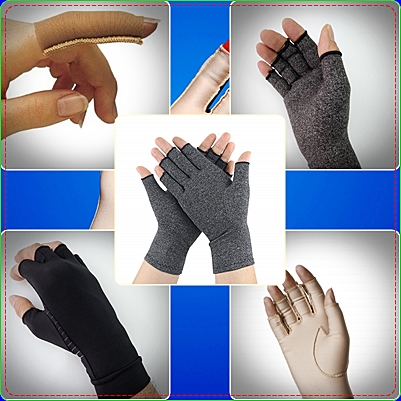 Oedema and arthritis  affect thousands of people and are a common symptom in patients following post-surgical procedures, hand related injuries or a CVA (cerebrovascular accident), also known as a stroke.
---
For hand therapy, the most commonly used conventional treatment techniques include massage, elevation, exercise, and compression. Compression for hand edema and arthritis are usually achieved through appropriate gloves which exert around 15 – 35 mmHg pressures on the tissues of the hand. The garment acts as an external counter pressure which compensates for the in-elasticity of edematous tissues, and, therefore improves circulatory efficiency by facilitating venous and lymphatic flow.
---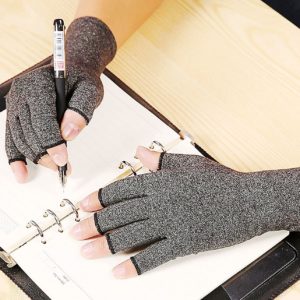 The management of Oedema and arthritis is a constant challenge for hand therapists where the objective is to reduce swelling as effectively and quickly as possible to focus therapy on more functionally related goals, such as return to usual activity.
Some people complain that arthritis and Oedema are glue which highlights the challenges of balancing the physiological healing process after injury with the need to maintain and restore soft tissue length, function and joint motion. Also prolonged swelling has an impact on joint range of motion, soft tissue mobility, and quality of scar tissue formation, function, strength, and esthetics of the hand. These factors may delay a patient's recovery, return to work and resumption of activities of daily living and require frequent or increased outpatient appointments.
Therefore, prevention and treatment of arthritis and edema are of paramount importance during all phases of management of the injured hand.
---
Our Oedema and arthritis gloves provide gentle, soft tissue compression to help reduce swelling to minimize hypertrophic scarring from burns and other traumatic injuries. These are made of medical grade soft compression material sewn with outside seams for increasing of comfort. The material breathes and with extensive stretching feature that provides greater comfort plus added range of motion. They provide coverage for the entire hand and thumb, also with cutouts open finger for the fingertips. Gauntlets tend to provide coverage from the wrist to the knuckles (our long arm gloves) with or without a cutout for the thumb.
---
Value Added Features

:
Easy slip on and take off design

Provide warmth and compression for soothing soft tissue edema and arthritic joint pain

Controlled compression.

Gloves provide 15 to 35 mm Hg of soft, gentle, even compression to edematous tissue

Open and Closed Finger design offer improved mobility and flexibility

Left or right and universal, sized unisex for users
---
Advantages

:
Give Patients Relief from Pain – People when dealing with rheumatoid arthritis is often painful on their hands and cause them difficult to perform their daily chores. Our compression glove is the solution. The gloves add safety and protection to the hands, so the patient is comfortable doing household chores.
Improves Blood Circulation – Inflammation caused by arthritis affect the circulation of blood in the body. When a patient has compression gloves, the hand are compressed and becomes warmer that leads to improved blood circulation. Hence, irritation and swelling are prevented when you move your wrists or fingers.
---
Showing all 10 results