Electric Heated Blanket/Heating Pad
---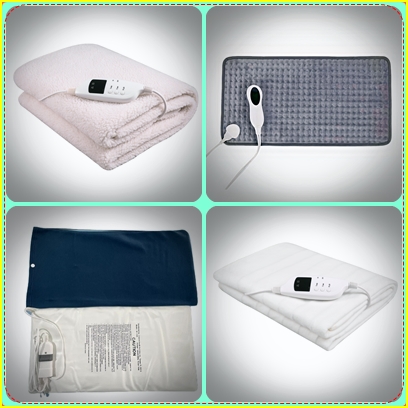 Electric BLANKETS AND PADS are a great way to keep warm and cozy in cold weather, whether you have one spread out on your bed or tucked around you on the sofa while you watch TV. Our blankets and pads are safe, effective, and comfortable. As well as keeping you warm, our heating blanket and pads can act as giant heating media that help soothe aches, pains, and even symptoms caused by medical conditions like fibromyalgia.
---
As heat affects the skin as well as the underlying tissues below the skin, applying it to a sore muscle will improve blood flow which increases the amount of oxygen and nutrients the muscle has enhancing tissue healing. Heat can also treat stiff muscles and joints by decreasing muscle spasms and increasing tissue elasticity allowing for improvement with joint mobility.
Our electric blankets and pads offer swift and effective heat to the areas of concern within minutes, immediately alleviating soreness you're experiencing.  
---
Innovative design, an enhanced soft feel with thin wiring, incredibly soft and hypo-allergenic, keep your clients warm in the winter. Our comfortable fleece table warmer includes elastic straps to keep pad in place as well.
---
When to Use Heat for Pain – 
Heat can be used to relieve pain caused by chronic conditions of the muscles and joints. Such chronic conditions include:
Arthritis

Old sprains or strains

Muscle spasms

Muscle stiffness
Because heat has a pain-relieving effect when applied to the skin, it can also be used for other chronic pain conditions, nerve pain conditions or back pain caused by disk problems as well.
---
When Not to Use Heat for Pain – 
While the use of heat can be beneficial for pain treatment, there are also situations when heat should not be used for pain treatment. Heat is best for injuries or conditions that are not in the acute phase. In other words, don't use heat on a fresh injury – that could increase swelling which in some cases could increase your overall level of discomfort. In these cases, cold pack is a better choice. Also, you shouldn't apply heat to irritated skin or open wounds (including incisions that are still healing). People with cancer should not use heat to treat pain as there is a chance of increased tumor growth.
---
Showing all 5 results