Clinical Stools
---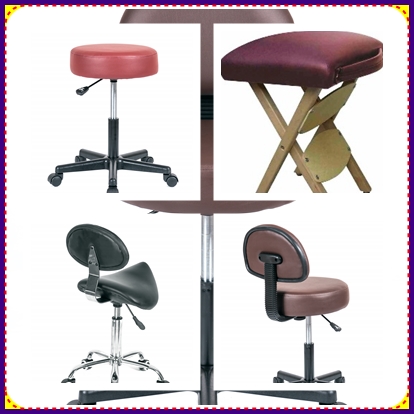 Health is more than just the lack of illness. Being healthy also means feeling comfortable, feeling fit and being optimistic. Today, everything that encourages movement is positive for our health.  Clinical stools are used to provide a sitting posture for a doctor or caregiver while examining or treating a patient. These come in various styles and designs and form an indispensable part of hospital examination rooms. To ensure the comfort and efficiency of medical personnel, high-quality hospital stools are a must and no health care facility can do without.
---
Our stools can bring you a wide array of sturdy, hard-wearing options for health care clinics, hospitals, private practices, operating rooms. Ideal for surgical, anesthesiology and reconstructive procedures, offering the ultimate in ergonomic performance.
---
The stools contain various features like seat, castors, 360 degree rotation and more. These stools are built to enhance maneuverability and comfort. They provide the patient to move around the room while being seated good for people with poor body strength due to illness.
---
Offering a broad range of stools and seating for the medical profession, our stools and seating are designed for the utmost in durability, comfort and affordability.
---
Unique Features: 
Stools are lightweight and agile.

Stools have fewer encumbrances, allowing better access to the patient.

Healthcare vinyl upholstery meets international test standard.

Durable star shaped base is extraordinary stable and easy to clean Robust construction and reliable performance in high-quality seating 5 cm semi-firm foam padding for added comfort.

Compact circular shape to allow freedom of movement in confined spaces.

Back height adjustment moves the back cushion up or down to fit various body sizes.

Pneumatic seat height adjustment moves the seat up and down to adapt to various body heights.

Leather options: vinyl and polyurethane.

Ideal for exam rooms, procedure rooms, emergency centers or laboratories.
Apply to any quality conscious healthcare facility.
---
 Advantages:
The movement of the spine changes regularly.

The intervertebral discs are constantly nourished.

The complex muscles of the back are stimulated and strengthened.

Sitting in motion keeps your body's neurophysiological functions "awake"; the nerve metabolism is stimulated, which makes you more alert and helps you concentrate better. As

 t

he vertebral chain only works when the pelvis is in a state of unstable balance.  

Active-dynamic sitting activates your sense of balance and movement functions.

This puts you in a better position to be aware of your posture and control it.
---
Medical work can be extremely stressful on your clients' body, especially when they are working long days (or nights). A medical stool is no substitute for a good office chair which is ideal for longer examinations.
Many clinicians feel that when sitting upon a stool they can remain comfortably seated and still be in-close proximity with their patient to accomplish their tasks. Also many doctors find that stools are more flexible and easier to use with greater maneuverability.
---
Showing all 6 results