Arm Slings, Shoulder Immobilizers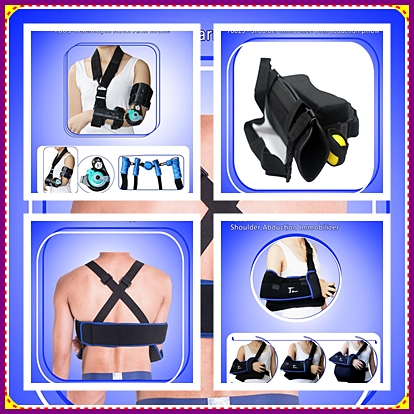 Arm or shoulder slings can be used for different types of conditions of the shoulder, arm, elbow or wrist in adults and pediatrics. These conditions can be caused from a strain, surgery, dislocation, fracture or injury.
---
A sling is a device used to support and keep still (immobilize) an injured part of the body. Slings can be used for many different injuries. They are most often used when you have a broken (fractured) or dislocated arm or shoulder.
---
With respect to arm sling, the key difference from shoulder immobilizers is that shoulder immobilizers have an extra strap that runs from the elbow around the back to the wrist, almost like a belt. It is basically a soft foam support which consists of four parts: the chestband, arm strap, wrist strap and shoulder strap. The purpose of the shoulder immobilizer is to prevent the shoulder joint from moving. Wearing it keeps your shoulder in the correct position for healing. This stabilizes the shoulder and prevents the arm from dropping away from the body when you lean or bend over. This also stops the arm from "jumping" as you walk or are bumped unexpectedly in public.
---
Advantages of our Arm Slings, Shoulder Immobilizers
It prevents the upper limb from fracture or hand injury. It is also for  patients who need the forearm to suspend the upper limb in order to maintain functional position to prevent limb swelling, to avoid pain and discomfort or to prevent forearm slippage and local skin ulcers as well as other complications. Sling can adjust its length, the part is well fixed, shoulder and elbow are padded and the clinical effect is satisfactory. Then follows the principle of biology and human mechanics, the local pressure is relieved and the forearm can be properly fixed.
---
Applications/Instructions:
Immobilization is normally used for 4 to 6 weeks to allow graft healing into the bone tunnels. A standard arm sling is used for comfort but can be removed for desk work.
In general, the forearm pocket is folded in half, then to connect the nylon strap and the aluminum buckle, and then adjust the length to well fit with the upper arm. The forearm can be used to lift the forearm.
---
Open the package and bend the arm 90 degrees into the armrest of the arm strap.

Pass the strap around the back of the neck.

Adjust the position of the iron buckle and the length of the webbing to make yourself feel comfortable.

Pay attention to the blood flow.
---
---
Showing all 13 results