Hot Pack Terry Covers
---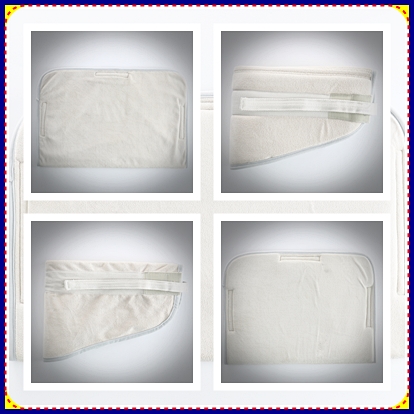 When using hot packs after part of rehabilitation or a fitness session or others, it's important to protect the client from the very hot heat packs  or moist heat packs, if using it incorrectly can lead to burns. What physical therapists do is to completely wrap around moist hot pack in several layers of towel we call it terry cover. The hot pack is then applied directly on the exposed area that needs treatment. Generally speaking, hot pack can be covered with a normal heavy towel when in use, however towel simply absorbs the heat, while our terry covers allow for heat to transfer when using moist heat packs. This obviously can add protection and with greater comfort and sanitation. Therefore, using a tailor made hot pack terry cover is highly recommended.
---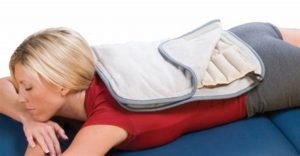 When hot pack is removed from the tank (Hydrocollator Unit), this is put into a terry cover and places on the patient. The treatment will progress much faster with this great way to deliver moist heat to arm, neck, upper shoulder, back, knee, ankle or other position of the body to soothe pain or discomfort like – stiff neck, backache, arthritis, sprains or bruises. 
---
Unique Features
Unlike others, our unique Terry Covers are made of high quality velour based microfiber fabric and are sewn with super strong stitching to enhance its durability. There are two types of terry covers, the "FOAM-FILLED" and "ALL- TERRY" lined types. Their sizes strictly correspond to all hot packs in the line.
The whole terry cover series were designed to allow the therapeutic moist heat to penetrate the deep tissues of the body without burning the skin.
---
The soft microfiber finish with good water absorption characteristic gives a very soft and comfortable feel to further increase patient comfort.

Moist heat pack is kept in place with numerous engageable and strengthened hook and loop fasteners. These fasteners prevent the pack from unwrapping or slipping during treatment. Packs are easily removed from these Velcro enclosures.

For CERVICAL all-terry type terry cover, this is laminated with polyurethane layer in body for extra comfort and enhance protection.

All foam-filled type terry covers are sewn with polyester sponge-based foam layer between the two layers of terry. This acts as a buffer between steam and skin which protects the user from excessive heat exposure.
Both the "ALL TERRY" lined and "FOAM" lined terry covers can stand up to heavy-duty institutional use.
These user-friendly designs are perfect for home, clinical or institution use. 
---
Advantages of Our Covers:

It helps prevent burning from a moist heat pack, thus packs are better to be applied when in use.
All of them allow therapeutic moist heat to penetrate without burning the skin.
Advantage over towel is that 

towel simply absorbs the heat, our terry cover allows for heat to transfer when using moist heat packs.

Good water absorption.

Softer, comfortable hand feel, add greater comfort and sanitation, an economical construction.

Hook and loop fasteners keep heat packs in place

 and easy of use.

Machine washable, quick-drying.

Reusable and durable.
---
Fine Grade Microfiber as the Material:
Microfiber is a kind of synthetic fiber. Its gauge is  finer than one denier or decitex/thread. It has a diameter of less than ten micrometres.
The composition of our microfiber fabric is 80% polyester and 20 polyamide blended. This unique fabric blending is used to create ultra-soft fabric and smooth surface texture that can give a very smooth and luxurious feel without the cost of other higher priced fabrics.
Because of its structure with the small weaving of thread, this allows it to be much more stain resistant than other fabrics.
---
Advantages of Microfiber Material over Cotton for Terry Cover :
Several studies have determined that microfiber is better than cotton at capturing bacteria. A research to compare the amount of bacteria picked up by a cotton-loop mop and by a microfiber mop. The cotton-loop mop reduced bacteria on the floors by 30%, whereas the microfiber mop reduced bacteria by 99%. 
In the meantime, unlike cotton type terry cover which is kind of natural fiber, it does not retain smell even after numerous uses. 
Other specific advantages over cotton type terry covers are  its softness, toughness, water repellency, and filtering capabilities. All these make it a highly durable and stain resistant fabric that needs little to no stain removal upon washing.
---
Summery of Advantages:
Non-abrasive

Hygienic

Durable

Soft to the touch

Can be treated with anti-bacterial chemicals

Lightweight

Water-repellent

Water-absorbing

Long-lasting if cared for properly
---
---
---
​
Sizes of All Terry and Foam Type Covers 

Standard

20″X 28″

Oversize

24″X 32″

Neck

9″X 25″

Half-size

16.5″X 16.5″
---
Showing all 6 results