NOVOChill™ – Freezer (Chilling Unit )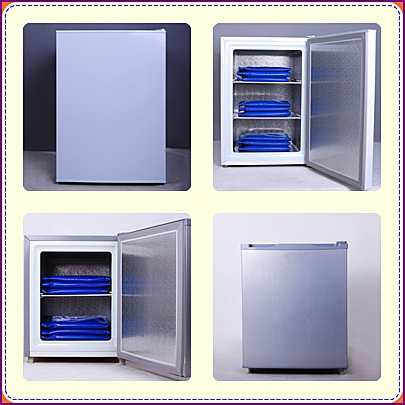 Cold therapy including chilling units are one of the most common methods of first aid administered to a sports injury or others. Applying a cold pack to an injury reduces swelling and increases blood circulation.
---
Our chilling units are excellent addition to any collection of cold therapy products.
These chilling units are economical and effective way to freeze and store packs, made to help you freeze vinyl and heavy duty urethane cold packs as well as hot & cold compresses at the proper temperature. The packs keeping in the freezers are in a chilled ready-to-use state. These are front-loaded that provide fast and effective cold on packs. 
---
IEC certified, available in 2 chilling units, 1.13 cubic foot ( 32L) and 2.8 cubic foot ( 80L) capacity for your selection to plan on room for storing cold packs. Providing a smaller and a larger capacity unit is ideal for the busy clinic, department, athletic training room or emergency rooms.
The freezers maintain a therapeutic cold temperature range of -18C to 0C ( -0.4F to 32F)
The freesers can always keep your cold packs frozen and ready for cold therapy treatment in any time with a freezer and chilling unit tucked conveniently away in your office.
---
Features 

– 
Designed to quickly freeze any cold packs and hot & cold compresses.

Heavy-duty compressor.

Extra power assures long life, faster chilling even with frequent door openings.

Easy cleaning and defrosting

Perfect for ice massages

The packs are designed to deliver up to 30 minutes of soothing relief from acute pain, swelling and fever.
---
NOVOChill™ – Freezer (Chilling Units ) 

NGL-07-1-99 (NGL-BD99)

2.8 Cuft.

80L

530 (W)  X 560 (D) X 770 ( H)

20.8″ (W) X 22.05″ (D) X 30.3″ (H)

NGL-07-1-45(NGL-BD45)

1.13 Cuft.

32L

480 (W)  X 450 (D) X 553 (H)

18.9″ (W) X17.7″(D)  X 21.8″ (H)
Showing all 2 results