Orthopedic Products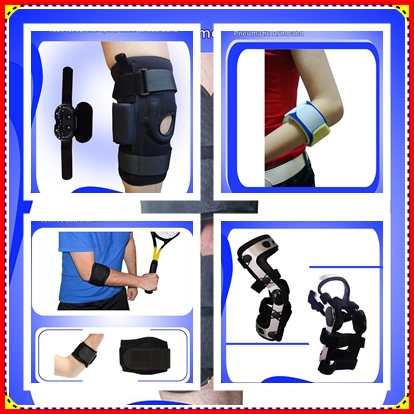 Orthopedic Splints and Supports are devices that are used to support and strengthen muscles and joints. These are used in prophylaxis of injury and patient care settings. Our products are in wide applications from the emergency room through the hospitalization period to rehabilitation and after care.
---
Hand and Wrist Splints – These are a variety of uses in the hand and wrist, they include the treatment of both soft tissue and bony injuries. They are the mainstay of treatment of many hand and wrist conditions. A sound understanding of the underlying anatomy and biomechanical principles is essential to ensure good practice. Risks associated with their use have been discussed to enable clinicians to appropriately prescribe, design and apply splints.
---
Our line of proven, high quality medical braces include both orthopedic braces designed to support existing conditions, and also sports braces designed to prevent injury.  All these orthopedic products  are made of top quality materials, high-end fabrics and are engineered for uncompromising functionality.
---
Industry Insights
The global orthopedic braces and supports market size was valued at over USD 4.9 billion in 2018 and is expected to witness a CAGR of 6.4% over the forecast period. Rising incidence of osteoarthritis is considered as one of the key growth drivers. It is the most common form of arthritis affecting population of all ages.
The Centers for Disease Control and Prevention (CDC) estimated that nearly 78 million U.S. adults above 18 years of age are anticipated to be diagnosed with arthritis by 2040. Thus, people with arthritis are the primary consumer base for orthopedic brace industry. Rheumatoid arthritis is also another form, which affects the joints, thereby leading to muscle pain.
Geriatric population is considered as one of the highest contributors to demand for orthopedic braces and supports. This population is highly susceptible to musculoskeletal disorders. Bones and connecting tissues, such as ligaments and cartilages, naturally weaken with growing age. This poses high risk for muscle injury mainly in knees and shoulders of the elderly. This further stiffens the joints, which raises the need for braces and supports to improve mobility. Hence, rising geriatric population is expected to propel the market growth.
Sports-related injuries are rising with the growing number of sports activities. Athletes are focused on fitness-related activities such as running, cycling, and others. While gaining health benefits through such activities, they are likely to sustain injuries, which can further lead to ligament injury. Indoor athletes are at high risk for ankle ligament tear. Hence, they are expected to generate substantial demand for ankle braces. In addition, ankle braces are recommended by the orthopedicians post an acute ankle sprain.
Athletes also use orthopedic braces to protect themselves from further injury during sports activities. It helps them restrict unwanted movement during matches, thereby, facilitating a convenient play.
---
---
More Demand on Orthopedic Appliances
The growing demand for orthopedic support system can be attributed to a number of factors, such as the rising aging population, rising awareness about the orthopedic support systems among the people. There are also increasing cases of road accidents, sports injuries and co-morbid conditions leading to orthopedic disorders or diseases.
---
We offer a complete line of orthopedic devices from head to toe – Cervical stabilizer from the soft collar to halos; spinal braces from corsets to plastic body jackets. We carry good splints, braces and support products for the market, with splints subcategory being further broken down into specific types for finger, hand, thumb, foot, ankle and more. 
---
Sports medicine bracing – A major line is available for braces on  post-injury support, joint protection and upper extremity bracing from finger to shoulder as well.
---
Our complete selection of orthopedic splints and braces can certainly fulfill your clients' needs.
---
Showing 1–16 of 93 results