Description
Triangle Bolster 19″ x 12″ x 20″ x 15.5″, NGL- TA-33-1
---
Removing compression and tension from joints and musculature is the first step a therapist makes before beginning a treatment.   When face-up, the bolster unloads the back, supporting it against the table. In a face-down position, the bolster slackens the hamstrings that can oppose the lower back musculature if the legs were otherwise straight.  A pillow cannot provide this support, unless several are stacked together – and even then a less than ideal angle for the knee is created.
The next reason using triangle bolster is that they provide excellent drainage through elevation of the lower extremity. A pillow does not do this, unless again many are stacked together. Drainage is important therapeutically as it assists venous return and increases central blood volume, enhancing the effects of the massage treatment – even if the treatment is not aimed at the legs.  An increase of central blood volume will accelerate circulatory results in the back, neck, shoulders, and even arms. 
One of the greatest therapeutic effects of Massage Therapy is how it influences circulation through the soft tissues – so assisting venous return and increasing central blood volume is easily achieved with the triangular bolster.
The final reason on triangle bolster over pillows is hygiene. Our bolster is covered in a hygienic vinyl that does not absorb bacteria, and we can wipe it clean easily with anti-bacterial wipes.   
Using bolsters because they offer superior support, ideal lower extremity drainage, and are the best choice in hygiene as well.
---
Distinct Features:
Support the body:
Bolsters are an effective orthopedic tools. Basically, that means that they can be used to prevent sprains and body aches.
Having a comforting psychological effect: Snuggling up to something can help the sleeper to relax.
Promote good posture: Hugging a bolster to sleep while resting on your sides can straighten the back while sleeping. This encourages good posture such as keeping your back straight and standing tall.
Relieve tension: Bolsters can be placed under the neck for better support. This helps to relieve the muscle tension that have been accumulated over a long day.
Enhance blood circulation: By using bolsters to elevate certain parts of your body such as the legs or feet, it helps the blood there to return smoothly to the heart, so that the heart doesn't need to work as hard
---
Two Types of Material as the Exterior:
---
POLYVINYL CHLORIDE LEATHER (PVC)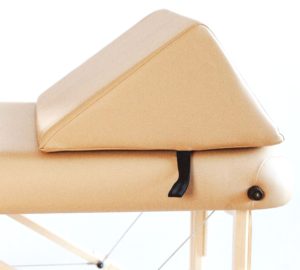 Our PVC leather (polyvinyl chloride) is an original type of imitation leather that is produced by substituting the hydrogen group with a chloride group in the vinyl groups. The result of this replacement is then blended with some other chemicals to create a durable plastic material that is easy to maintain.
With regard to durability, PVC's multi-layer structure and lack of pores compared with PU leather makes the material more durable than PU leather. This is why PVC leather is mostly used in upholstery. Utilizing PVC leather could result in additional product lifetime as well.
PVC has no hair-follicles (pores) which makes it virtually waterproof and high temperature resistance. PVC leather is a different form of plastic, which cannot be degraded easily.
---
POLYURETHANE LEATHER (PU)
In terms of performance, polyurethane leather is waterproof as well, can be dry-cleaned, and is soft and supple. It is much lighter than real leather. Its synthetic form does not crack or fade under sunlight, making it particularly ideal for upholstery.
Other benefits of polyurethane leather include its environmental credentials. As a bio based material, genuine leather's main environmental benefit is its biodegradability. However, traditionally, leather production and the tanning process use several toxic chemicals, which produce pollution in our interior and exterior environments. By contrast, innovative manufacturing techniques make polyurethane leather cleaner to make, with less natural resource use and free of animal cruelty. 
---
Your Choice of Selecting PVC and PU Leather as Matarial
PVC leather is an entirely synthetic material. It has more layers underneath its coating, making it tougher and more durable.
PU leather consists of a split leather backing, topped with Polyurethane coating that gives the fabric a finish similar to natural leather, with similar flexibility too. PU provides the most realistic imitation of leather with respect to hand, surface feel and overall aesthetics. But as compared with PVC leather, it breaks or wrinkles easier like real leather when gathered or stitched.
---
Foam Material as the Interior
Our polyurethane flexible foam is a high density, and high resiliency typed foam. This has been widely used on high end seat cushions because of its cushioning performance. It composes of high density and compression foam material, its inner core determines its softness and firmness of the cushion enabling it durable and perform well.
---
Highlights:
This jumbo sized triangle bolster comfortably supports your client in an incline position and is an ideal therapy tool for neck, shoulder, face and upper body massage techniques.
This can support any time you need to change the angle of a body part for easier therapeutic access.
This is X-Large sized bolster, particularly designed for use by a Professional Massage Therapists who is familiar with working with this jumbo style of bolster.
Available in any color.
Packing: 2 pieces per carton.
---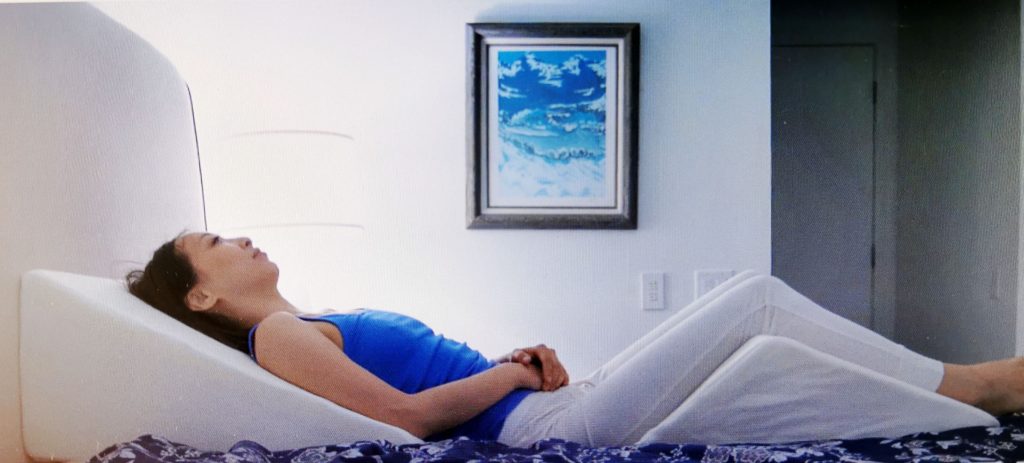 ---